Merely for having sat calmly through George H.W. Bush's funeral on Wednesday, Donald Trump was hailed by some as having turned a more presidential page. Alas, it was another Groundhog Day in a loop of Trumpian false dawns. Since then, Mr Trump announced the exit of his chief of staff, John Kelly, appointed Heather Nauert, a former Fox News talking head, to be the next UN ambassador, named a new attorney-general, William Barr, and was effectively labelled a criminal by his own Department of Justice. For good measure, he also called Rex Tillerson, his former secretary of state, "dumb as a rock" and "lazy as hell".
Mr Trump is battening down the hatches for the second half of his presidential term. It promises to be much stormier than the first. Robert Mueller, the special counsel, is methodically lining up his targets for what increasingly looks like a recommended indictment of Mr Trump for more than one federal crime. On Friday, "individual #1", as Mr Trump is called in the filings, was implicated in a federal crime in the sentencing reports for Michael Cohen, his estranged personal lawyer, and Paul Manafort, his former campaign chairman.
The filings were heavily redacted. But even from what was visible, they establish connections between the Russian government and people around Mr Trump from as early as November 2015 – eight months before he took the Republican nomination. The chess grandmaster, Garry Kasparov, once said that Mr Trump "had more Russia connections than Aeroflot". Mr Mueller has by no means finished mapping them out. "Individual #1" also directed Mr Cohen to break federal election laws in the payment of hush money to two women.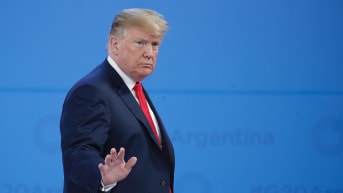 The looming denouement of Mr Mueller's investigations coincide with the Democratic takeover of the US House of Representatives, which formally starts in early January. Mr Trump remains fixated before then on securing funding for his border wall. But the walls closing in on his presidency are more tangible than the one on the Mexican border. Nancy Pelosi, the likely next Speaker, will find it very hard to avoid moves towards impeachment given the volume of potential felonies Mr Mueller is amassing. Either way, she will move to subpoena Mr Trump's tax records, which is likely to trigger a battle in the Supreme Court, back hearings into Mr Trump's alleged breaking of the US constitution's emoluments clause, investigate the Trump Organisation's alleged Russian money laundering, and could back moves to haul up the president's family, including his two sons, Eric and Donald Junior, and his son-in-law, Jared Kushner, to testify.
Mr Trump clearly senses what is in store. On Friday, the Democratic senator, Richard Blumenthal, told a cable news channel that "the pieces of the mosaic or the puzzle are coming into place". Mr Trump responded on Twitter by calling the senator "the dick". He also announced that he had been cleared by Mr Mueller's latest filings while also repeating his call for the "witch hunt" to be closed down. Mr Barr, his new attorney-general, takes a robust view of executive privilege and a dim view of the powers of special counsels. Unlike Jeff Sessions, his fired predecessor, Mr Barr will probably not be forced to recuse himself from overseeing the Russia investigation. In other words, the walls are also closing in on Mr Mueller.