Every woman in Japan plans her day in a way that suits her. But in general, everyone's schedule is more or less the same, especially when it comes to that of a working mother or housewife. It's curious to learn how different the way of life for women in Japanese society is compared to what Western women are used to.
Morning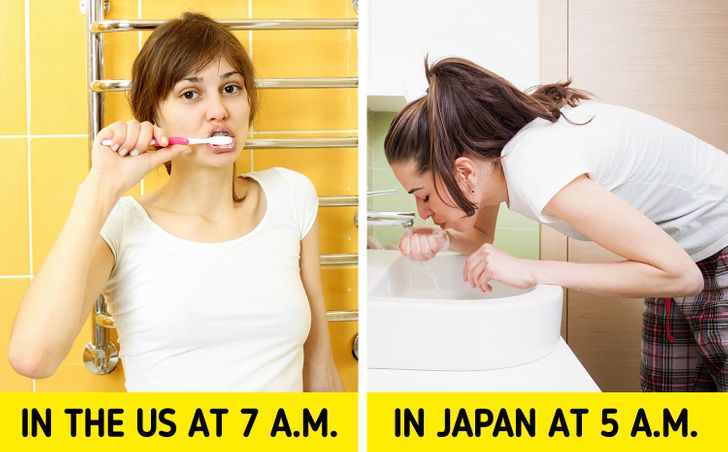 Women in Japan, as a rule, get up just after 5 a.m., and they do it very quietly so as not to wake up their husbands and children. Preschool children in this country usually sleep in the same bed with their parents.
After hygiene procedures take place, Japanese women either start preparing breakfast or start a quick load of laundry. They don't take a shower in the morning — it's customary here to do that in the evening after a working day. In the morning, Japanese women just comb their hair, brush their teeth, and wash their faces.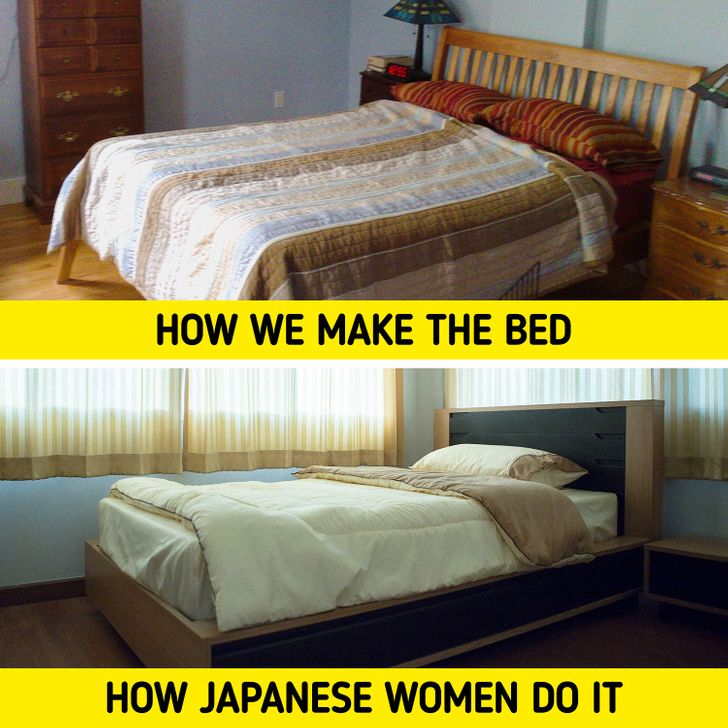 If the rest of the family is already awake, Japanese women will make the bed. But they do this in a different way than we do. Many people don't have bedspreads, so they just need to spread the sheet flat and fold the duvet and pillows neatly so that there's no visible clutter.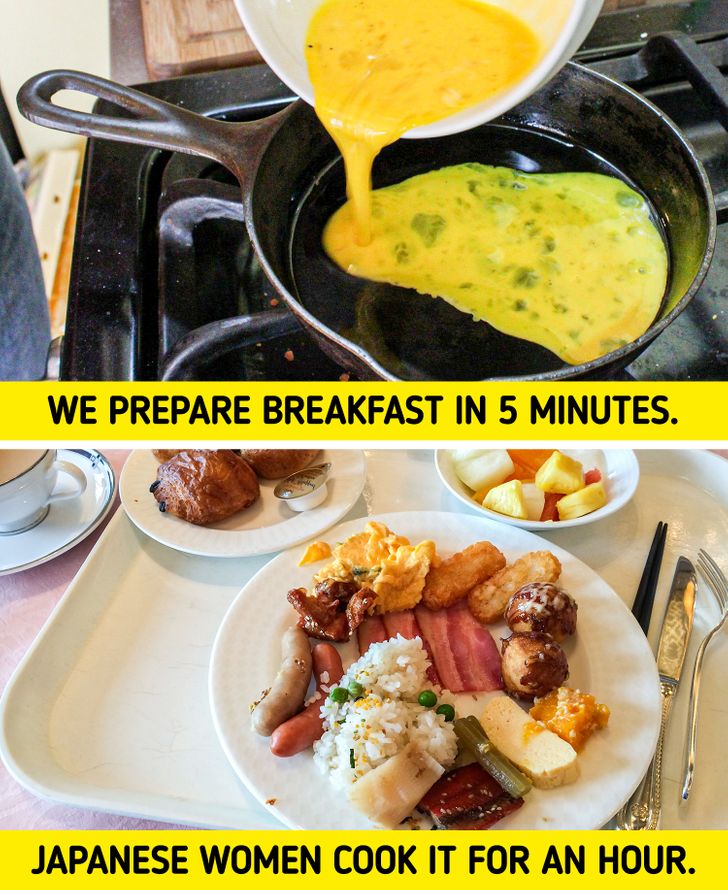 Breakfast for a Japanese family is also different from what we're used to in other countries. They aren't content with quick sandwiches or scrambled eggs. Instead, they prepare a full-fledged meal — they stew vegetables, fry meat, and cook rice.
In the morning, they need to prepare breakfast for their child for school. Of course, some mothers are satisfied with their child eating breakfast in the school cafeteria, but this is generally considered indecent. A mother in the local community is judged by what kind of breakfast her child carries to school. If the lunchbox is sloppy or if a child doesn't have breakfast at all, the mother is considered bad, and the same goes vice versa. And it's not enough just to put food in the lunchbox. You need to do it beautifully, making some figurines from it — so in general, you have to show some kind of creativity.
The husband gets woken up so that he has just enough time to have breakfast and immediately go to work.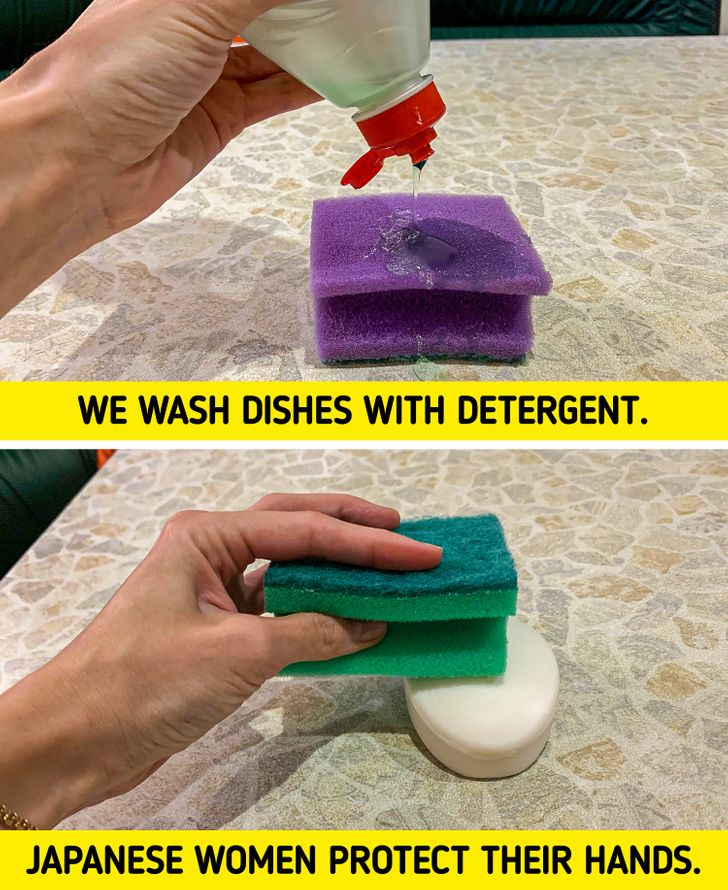 The way Japanese women wash dishes, is again, not at all similar to the way we do it. The water isn't left on for a long time — they simply soap up all the plates and cookware and then put them in the sink while the water is turned off. Then they rinse everything together.
It's interesting that some Japanese women don't use dishwashing detergent to protect their hands. Instead, they put special soap in the sink. This saves them time because they don't need to pick up a bottle and squeeze the product out every time they need some soap — they just rub the sponge on the soap and it foams.
After breakfast, the child brushes their teeth a second time, then they get dressed and are taken to school or kindergarten. Many women in Japan have mothers' bicycles with baskets and special child seats.
Schools and kindergartens in this country are open from 6 a.m. to 8 p.m. so that it's convenient for working parents to pick up their children. Of course, children don't study during this entire period — there are game breaks.
After a Japanese mother takes their child to school, she returns home and has breakfast herself. And then she goes to work if she's not a housewife.
Daytime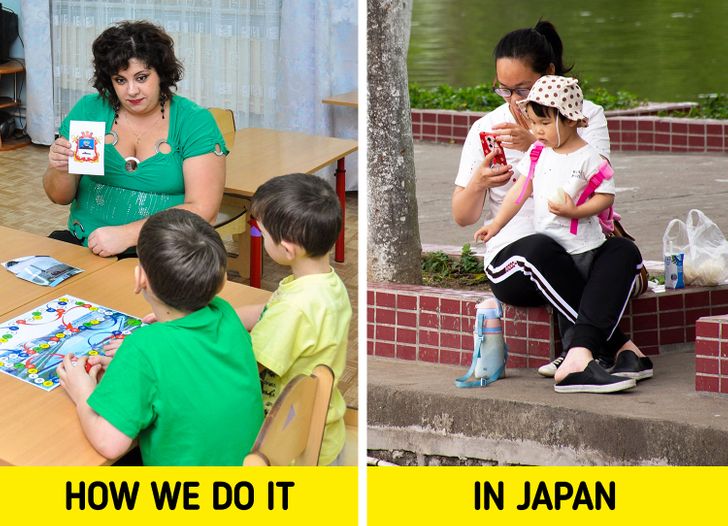 If a woman doesn't work and her child hasn't reached school age, she spends the whole day with them. In fact, such mothers aren't able to send a baby to kindergarten because childcare facilities are available for working parents only.
During the day, housewives do the cleaning, cooking, and washing, as well as shopping. And they go for walks with their children, of course. They do this mainly in parks. There's even a special term for these women in Japan known as "park mothers."
Society in such parks has a strict hierarchy. Each mother has her own "title," and getting into a local clique of mothers isn't so easy — only leaders can decide whether to accept new women into their "club."
In terms of working women, they postpone all household chores until the evening. After the mother picks up her child from kindergarten or school, she goes with them to the grocery store and then returns home.
Evening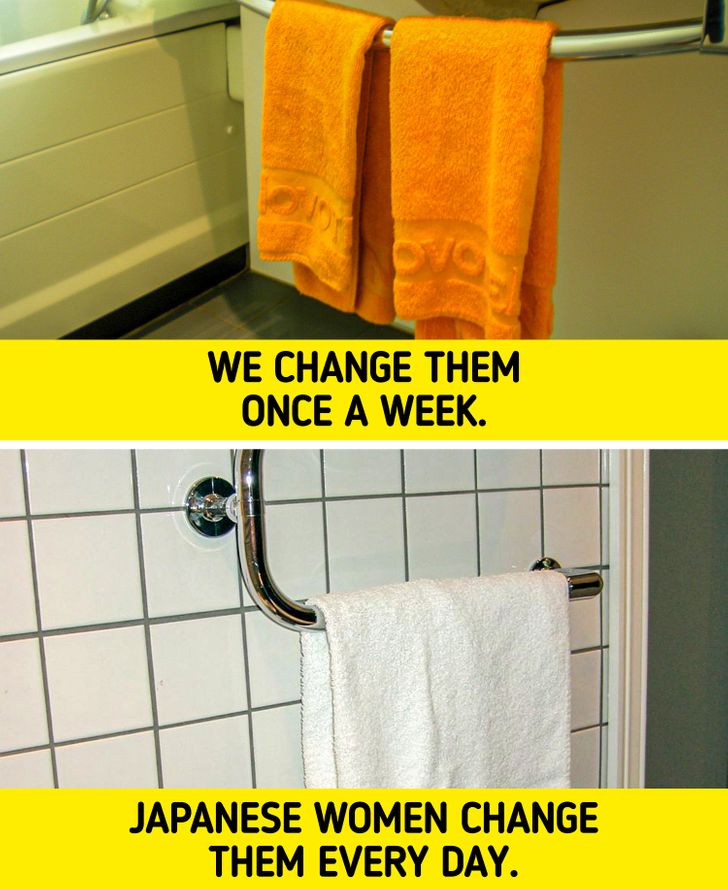 The first thing a woman has to do is laundry if she didn't do it in the morning as it's impolite in Japan to start this process after 7 p.m. Many people go to bed around this time and they may complain about the noise.
Japanese women do laundry every day. For one, this is due to the fact that children quickly get their clothes dirty, and secondly, because of their amazing cleanliness. For example, locals change the towels in their bathrooms daily.
After cleaning and doing laundry, women take a bath themselves and then bathe the children. Then they cook dinner. Interestingly, in some residential buildings, water is highly chlorinated so it can't be drunk or used for cooking. People have to buy mineral water for these purposes.
Before going to bed, women prepare rice for breakfast. They put it in a special device — a rice cooker. It has a timer function so that the rice will start cooking at a certain time and won't have to be cooked in the morning.
The child is put to bed first, and the woman can devote all the time remaining in the night to herself.
Did you like the schedule these Japanese women follow? How different is it from what you're used to?